Cannabis & Tech Today

Cannabis & Tech Today is a quarterly publication specializing in technological advancements, business innovations, and popular culture pertaining to the marijuana industry. We are enhancing consumer awareness, reducing societal stigma, and fostering a culture of acceptance, responsibility, and inventiveness within the cannabis community.
Headquartered in Denver, Colorado, Cannabis & Tech Today is seated in the epicenter of America's cannabis industry, which continues to expand nationwide. Our publication is passionate about evolving the science of cannabis and enlightening our readers with insightful content. We advocate sustainable cultivation and harvesting of marijuana and promote its use in medical applications. Whether you're looking for insights into legislation, inspiring business profiles, exclusive interviews with trendsetters in the industry, or cutting-edge products, let Cannabis & Tech Today be your guide.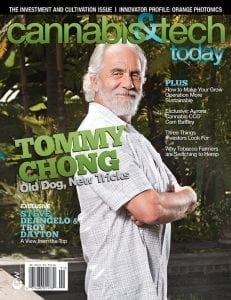 Cannabis & Tech Today is a quarterly publication specializing in the technical and scientific advancements surrounding the cannabis community. Our focus on sustainability, health, and science sets us apart from the competition. We are dedicated to adding our insights to the ever-evolving anthology of information pertaining to the study of cannabis. As American society embraces the idea of cannabis as a part of everyday life, Cannabis & Tech Today will broaden horizons and encourage advancements in sustainable growing practices, THC health innovations and studies, cannabis entrepreneurship, and medical science.
Cannabis & Tech Today is North America's premier publication for everything related to the business of marijuana, including technology, innovation, expansion, science, and medicine. End your search for an education about cannabis oil, terpenes, trichomes, strains, seeds, stocks, news, dispensaries, tinctures, clubs, and edibles. Are you curious about marijuana butter, legalization, legislation, states with legalized marijuana, medical marijuana, or how long marijuana stays in your system? What about Trump's stance on cannabis? Or where are the best dispensaries and how can you find the best deals? Cannabis & Tech Today has the answers.
Contact Information
1750 Wewatta Street, Unit #1821, Denver, CO 80202, USA